---
The original airfield opened in October of 1996 and was inspired by a flight simulator site of the day called 'CyberSky'. CyberSky was hosted by a talented young man from South America and featured his own and the flying artwork of other talented artists. My first creation, The Red Baron's triplane was a one time feature there. This particular aircraft was the first triplane of any kind modeled for FS98. CyberSky no longer exists in its original form.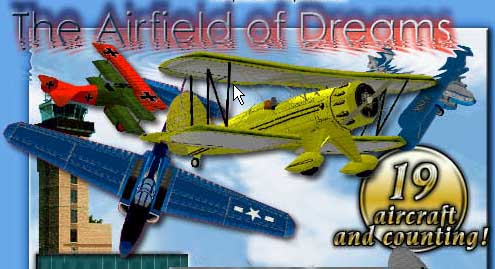 After the airfield went off-line after 911-- all the artwork went missing. I was recently building a new computer and when checking what to keep and what to toss in a box of old hard drives, I found the long lost artwork from the original site. Parts are missing, and some of the links are bad, but it's fun to visit the site as it once was, especially the aircraft galleries.
I'm sorry there are no aircraft available for download in the download links, the compiled version are still missing. If you have any of these aircraft I'd appreciate hearing from you.
Once you click Click here you are on your way back in time.
---